14th century pub, dining and accommodation
In the National Trust village of Lacock
Come on in and explore our historic pub
The George Inn is the historic pub in Wiltshire that you've been looking for. With picture postcard charm be prepared to be enthralled with tales of olden days when meat was cooked on a spit which was turned by a wheel using specially bred dogs called Turnspit. The National Trust village of Lacock dates back to the 13th century and has remained largely unchanged over the centuries with its many lime washed, half-timbered and stone buildings and is a fascinating place to visit whilst in the area.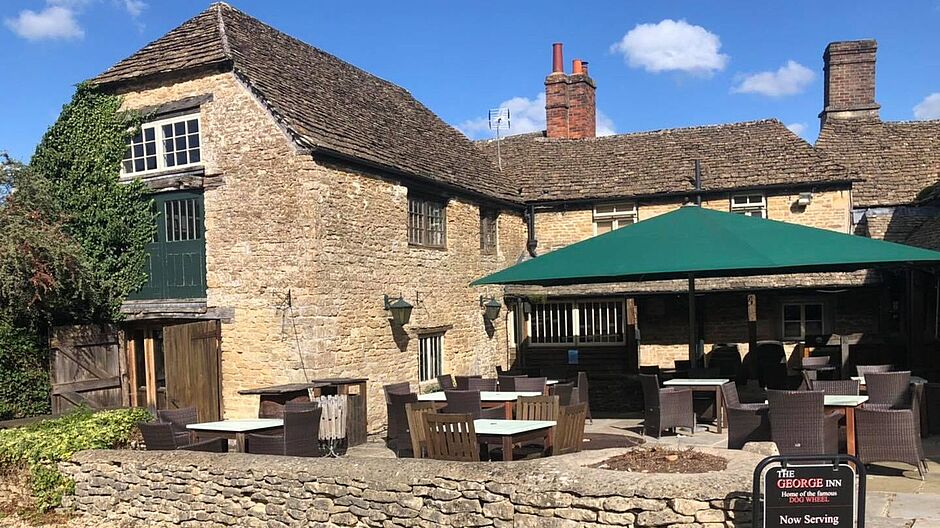 The pub dates back to c.1361 and inside you can find original exposed beams, a medieval fireplace and cosy nooks and crannies to enjoy great food and drink as you while away the day. Outside we have a stone courtyard complete with stocks and a wishing well as well as a children's play area. We're dog friendly and popular with tourists and locals alike. We can't wait to welcome you in soon.
We pride ourselves on bringing you the best pub food in Lacock and whether you're visiting for a lazy lunch, a celebratory dinner or a big event, we've got you covered.
Visit the National Trust village of Lacock and stay a while in our charming 14th century pub. Our 2 double bedrooms are both dog friendly and accessible. Breakfast is available just a few minutes walk away at our sister pub The Red Lion.
Sign up for news and offers
Join our club and
enjoy 15% off your bill...
Sign up for emails and we'll send you a voucher as a thank you.
Full T&Cs outlined in your welcome email.